is upon me. It's time to bullet the events of the last several so that I don't forget.
1. Becky Pliego of
Daily On My Way to Heaven
has graciously sponsored an event called
Doctrines in the Kitchen
. I love the title. I love the theme. I love the focus of it all. How doctrine should effect God's best in the lives of His people. Now that's what I'm talking about. Several bloggers you may already read have been featured and to catch all of the posts, make sure you click on the Doctrines in the Kitchen button.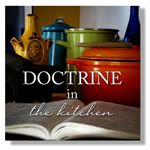 I submitted a post to Becky a while back and it is up today talking about my favorite doctrine: the
Sovereignty of God
.
2. The sovereignty of God was loudly displayed in my life this weekend as some plans were tossed when a tornado hit nearby, necessitating a change of Saturday plans, and a stomach bug hit two out of three of the boys, as some meals were tossed. No biggie. God showed His sweetness to us in how friends stepped in, how needs were met and how boys once old enough can even clean up after themselves and their tossing.
3. Sunday rest took on a whole new meaning as everyone quietly, gently and restoratively recovered from Saturday. Since we decided not to bless our church family with our bug and potential for bug, we stayed at home and listened to a great message by Cameron Mbewe from the recent Gospel Coalition conference. His encouragement to us regarding the Righteous Branch of Jesus Christ was a perfect prescriptive.
4. Monday, Tuesday and today have all blessedly been "normal," or as normal as these people around here can get to. One of my favorite sayings is from Barbara Johnson, "Normal is just a setting on your dryer." I agree.
5. The coming days are promising busy with a capital "B," but I'm eager to see yet again how God will work out a multitude of details.